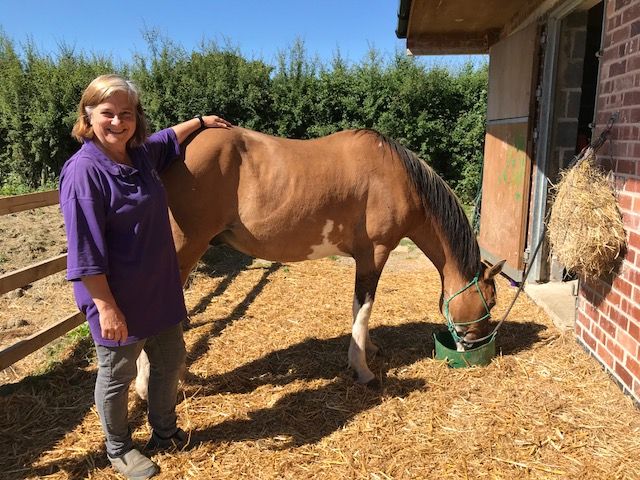 Sue Coombes
I'm a qualified teacher with over 16 years' experience of working with children on the autism spectrum. I've worked with children of all abilities from non-verbal children with additional learning difficulties to very verbal and able children with Asperger's Syndrome and Pathological Demand Avoidance. I worked for over ten years at a specialist school for children with autism in Nottingham both as a class teacher and as a music specialist using music as a framework for supporting children's communication.
I am an integrative arts child counsellor trained at the Institute for Arts in Therapy and Education and a member of BACP.
I am an EAQ® (Equine Assisted Qualifications) qualified facilitator.
I have also completed the first training course in the Horse Boy Method™ offered in the UK with Rupert Isaacson (author of The Horse Boy), and am a Certified Professional in the Horse Boy Method.
Alice Wilkinson
I completed my Undergraduate degree in Psychology from Loughborough University in 2016. I then went on to complete my Masters degree in Public Health from the University of Birmingham in 2017 having developed a specific interest in both Health Psychology and the Psychology of Physical, Learning and Devopmental difficulties and disabities.


I also have 4 and a half years experience of both volunteering and working on a Riding for the Disabled (RDA) yard near Loughborough. There I have become a voluntary assistant coach and still work part time for the able-bodied riding school where the RDA Centre is based, regularly working with children, young people and adults with physical and learning disabilities who come to enjoy riding lessons and learn about general horse care.


I have recently been making my way through the British Horse Society stages and have achieved stage 2 Ride, Care and Lunge and am due to undertake my stage 2 Teach (PPT) in November 2018. I also have roughly 10 years experience in owning my own horses.


I am very much looking forward to completing
EAQ (Equine Assisted Qualifications) through Rainbow Horses in the near future.
Harriet Wigget

I graduated from uni with a degree in Animal Biology and have been around horses from a very young age. I have completed my BHS stage one and I am looking to take my next stages in the near future.
I currently work with people with learning disabilities from the ages of 7, up to people in their 30's, in various capacities . As well as working for Rainbow horses, I also work with another charity where we aim to help people with learning disabilities into work.
Apart from my work, I enjoy riding and looking after my two ponies and I am aiming to get back into competing in local dressage competitions. I also have one very cheeky cat who is always happy to receive lots of cuddles and has even learnt to sit for a treat!
Helena Derriscott
I have a degree in Equine Sports Science and over 30 years experience of working with and owning my own horses.
I'm a qualified trainer in life-long learning and have taught riding and horse care to many children and adults over the years, as well as classroom based activities, in particular Equality and Diversity.
I have completed introductory workshops in Equine Assisted Learning and Horse Boy Method and am keen to work towards becoming an Equine Assisted Learning Facilitator with Rainbow Horses.
I have also passed BSL level 1.
My other passions are Reiki and energy healing, singing and having fun at home with my husband, daughter, our horses and cats.