The sessions are not riding lessons, but are aimed at encouraging learning, communication and relaxation through interactions with the horses, family or group members and staff. The principles we use are based on activities from EAQ® (www.equineassistedqualifications.com), methods from The Horse Boy™ and strategies learned over more than 13 years of working with children with autism in a specialist school.
Do not expect your child to be ready for all the activities on the first session...it may take time for them to get used to the new sights, sounds and smells. It is not unusual to take several sessions before they will approach the horses. There is still a lot they will get out of being around the horses and in the outside environment.
The first part of the session is 'saying hello' to the horses, approaching them in the field or the enclosed schooling area. The child can do this in their own time as it is important that they are not rushed. Parents, grandparents, carers and brothers and sisters are encouraged to join in.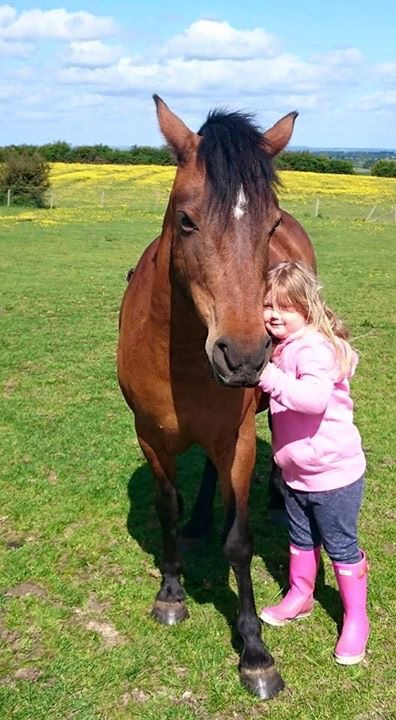 When the child has met the horses we will take time for sensory exploration of the horse. Some children may find it difficult to touch parts of the horse but we have grooming brushes and gloves to enable them to explore without touching.
After exploring from the ground we may invite the child to sit on the horse bareback and discover how it feels to sit and lie on the horse's back. We would encourage parents, carers and siblings to try this too...both so that they can share the experience (which can be a powerful one) with the child and as a model for the child to show them what they can do.
For some children riding is an important part of the session although there are plenty of activities to do with the horses on the ground. We have an extra large western saddle to allow an adult to ride with the child but children over 10 years will be led whilst seated on the saddle on their own.
We have a variety of coloured buckets, balls and hoops that can be used in games involving naming colours and making choices if appropriate for the child. We have cones around the schooling area and can put up pictures relating to your child's particular interests (for example cbeebies characters or numbers) to motivate them and encourage language and making choices.
Otherwise we will be singing about what the child is doing and experiencing as they ride (for example: sitting on a horse, tapping the saddle, looking at the trees, shaking a 'twiddly', patting hands etc). Again family members are encouraged to join in sharing the experience with their child.
Children are welcome to bring their favourite toys or objects with them to the sessions, and to ride with them if they want to.
The toy and craft stables and outside areas are available on Saturdays for families to use before and after their sessions. Some children enjoy bringing snacks to eat; and tea, coffee and blackcurrant squash are always on offer.
We are gradually increasing the number of volunteers available and hope that we will soon be able to have people helping with the additional activities as well as with the sessions. We couldn't run without our volunteers and are incredibly grateful for all the time and effort they put into Rainbow Horses: they are wonderful people.
If you would like to be a volunteer please contact Sue on 07960031312
We would like Rainbow Horses to be somewhere that the whole family can come and relax, meet other families, bring a picnic, and allow their children the freedom to be themselves in a safe and supportive atmosphere. We welcome brothers and sisters, aunts, uncles and grandparents!
We also have chickens, rabbits, a gecko, a snake and a family of mice for children to handle and help take care of.
All of this needs funding and plenty of volunteers to help...if you are interested in helping us please contact Sue (details on the Contact page)